COUGAR 700K is a premium mechanical gaming keyboard aimed at serious and professional gamers. Inspired by military "stealth technology", the design is created from elements of geometric facet; Mechanical key modules are mounted on an exposed and bent aluminum structure with premium brushed surface treatments; this structure provides the user with more efficient typing, not to mention a sturdy and strong structural foundation. The ends are then wrapped in a plastic frame to create a Protected feel. Intuitive key and button groupings are neatly integrated into the plastic frame. Thereby drawing and driving attention towards key areas and allowing the gamers to concentrate and focus on their competitive matches. An extra FPS palm rest with a magnetic attachment system provides great WASD control.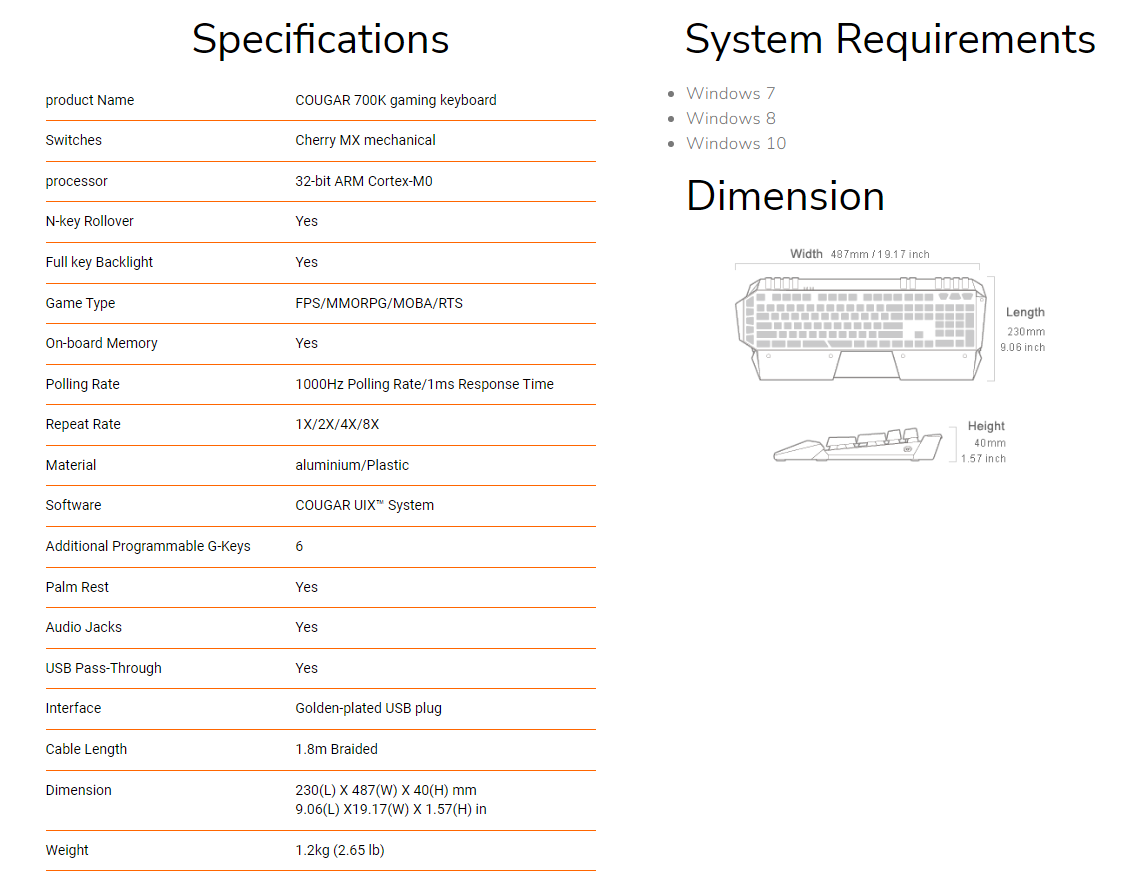 Features
Cherry MX Mechanical Keys
Mechanical keys deliver gaming-grade responsiveness and distinctive tactile feedback. With durable Cherry MX key switches that last up to 50 million keystrokes.
Repeat Rate 1X/2X/4X/8X
Commands can be issued faster.
N-key Rollover
NRKO Technology: Simultaneous and Accurate Multi-Key Commands
Aluminium Brushed Structure
The exposed switch design stands proudly above the bent brushed aluminium structure that crowns the keyboard. An elegant and durable solution.
6 Programmable G-Keys
6 ergonomically positioned G-Keys will allow you to easily access additional functions such as macros, shortcuts, etc. One of those keys, located on the right half of the space bar, is especially suitable for thumb access during FPS and other first person games.
32-bit ARM processor/On-board Memory
The 32-bit ARM processor offers superior computing speed and ensures smooth processing of your orders, while the on-board memory allows you to store up to three full configuration profiles and bring them to another PC.
Individual Key Backlight Setting
Fully configurable individual key backlight. Additionally, the dedicated backlight key will allow you to instantly switch between five levels of brightness.
FPS Palm Rest
The detachable palm rest provides great ergonomic support for your wrists. Additionally, a special rubber palm rest designed for long FPS gaming sessions will provide extra support for your left wrist.
USB Pass-Through/Audio Jacks
A conveniently located USB pass-through allows you to quickly connect your mouse or other USB devices. The keyboard also includes a useful headset and microphone pass-through.
1000 Hz Polling Rate
700K's response will be as fast as you can be. Its 1000 Hz polling rate allows it to provide a 1ms response time: virtually instant response.
On-The-Fly Macro Recording Key
Your keyboard is already configured, you are playing and suddenly realize that there is another macro that would come in handy for the game you're currently playing. Getting out of the game to record it? Not with COUGAR 700K. With the dedicated MR key for macro recording, you can record new macros anytime on the fly.
Multi-Media Keys
Convenient dedicated media keys will allow you to easily control your computer's multimedia playback.
Windows Key Lock
No more kicking yourself out of games: A dedicated key allows you to lock the Windows key and play comfortably.
Braided Cable & Golden-Plated Connectors
Sturdy and durable solutions for gaming